2018 Conference of Heart-Centered Therapies
Keynote Speaker
Vincent Felitti, M.D.
The theme of the conference is Hypnotherapy: Enhancing Health through Life Resilience.
Keynote Speaker will be Vincent Felitti, M.D. He is a Physician and Health Researcher Clinical Professor of Medicine; Faculty of Department of Medicine, UCSD. As founder of the Department of Preventive Medicine for Kaiser Permanente, Dr. Felitti served as the chief of preventive medicine for over 25 years.
Dr. Vincent J. Felitti is one of the world's foremost experts on childhood trauma. Leading the charge in research into how adverse childhood experiences affect adults, he is co-principal investigator of the internationally recognized Adverse Childhood Experiences (ACE) Study, a long-term, in-depth, analysis of over 17,000 adults. Revolutionary at its inception, Felitti's groundbreaking research remains extremely relevant to today's healthcare models.
FRIDAY PRE-CONFERENCE
8:30am - 9:00am
Conference Check-in
The registration table will be open starting at 8:30am for check-in. Come get your badge, goodie bag, and mingle with your fellow Wellness graduates.
9:00am - 4:15pm
Diane Zimberoff, LMFT
Past Lives and Karmic Strands
Assist your clients to discover their karmic strands in order to best utilize the opportunities in this lifetime for healing and growth. These karmic strands carry both unique and powerful gifts as well as self-sabotaging deficits. This lifetime presents an ideal opportunity to release ambivalence and resistance to life, and to embrace and share one's giftedness. To do so enhances and maximizes the Soul's purpose for the current life and helps to prepare for the existence to come. Bring higher consciousness and self transcendence to this life's journey on the karmic level.
We will work with ways of facilitating individuals to discover their deepest essence, the soul. We will access the client's dreams, Kundalini and chakra energies as well as 'soul memory' to accomplish this facilitation. And we will provide specific self-care methods to protect the clinician from any potential secondhand trauma.
Learning objectives:
Recognize how ambivalence and resistance to life can impede one's healthy karmic development

Define one's Soul's purpose for past lives, the current life and for the existence to come

Discern how to untangle the karmic strands that inhibit you from realizing your true potential
CONFERENCE BANQUET
Saturday evening make plans to attend The Wellness Foundation fundraising Banquet. Enjoy a silent auction and a fabulous meal which includes salmon or vegetarian lasagna.
The Wellness Foundation is a 501(c)(3) organization so all donations to The Wellness Foundation for the banquet are tax deductible. Proceeds will further the goal of the Foundation to increase research in Heart-Centered Hypnotherapy in order to obtain reliable and valid knowledge to translate into practice.
CLEVELAND OHIO


Conference Location:
Cleveland Clinic, Ctr. for Integrative Medicine
1950 Richmond Road
Lyndhurst, OH 44124
Location Nearby Hotels:
______________________________


Why Become A Member?
Members only discounts for our bi-annual Conference of Heart-Centered Therapies

Start or grow your clients by being listed on our website in our Find a Provider database

EBSCO research database, with access to over 10,000 journals

Free subscription to the semi-annual Journal of Heart-Centered Therapies, and unlimited access to all articles from all back issues.

Unlimited access to audio recordings of all 8 previous international conferences

Diane's classic digitized self-improvement programs and professional audio trainings

Document library featuring documents on: MasterMind, questionaires and assessments, hypnotherapy protocols, and more
______________________________
The 10th International Conference of HCT will be held at the Cleveland Clinic Center for Integrative Medicine in Cleveland, OH August 10-12, 2018


We Hope You Will Join Us!
Welcome to the 2018 International Conference of Heart-Centered Therapies. We will have exciting and innovative presentations. Meet up with old friends and make new ones. Learn about the collaboration between The Wellness Institute and The Cleveland Clinic Center for Integrative Medicine.
To be notified when new information becomes available, please fill out the form
______________________________
CONFERENCE SUMMARY
Friday: 8:30am - 4:15pm

Diane Zimberoff

Past Lives and Karmic Strands
Saturday: 7:00am - 9:00pm,

Kirtan, Registration, Key Note, Presentations, Lunch, Banquet Dinner

Sunday: 7:00am - 10:30am,

Kirtan, Breakfast, Presentation and Closing Circle




CONFERENCE PRICING / REGISTRATION

Saturday - Sunday:

Members: $250

Non-members: $285
Fr

iday All Day Workshop:

Members: $95

Non-members: $105
Saturday Night Dinner:

$100 tax-deductible donation for The Wellness Foundation



To get started, fill out the form to the right or call us, (800) 326-4418. After we receive your form, w
e will reach out to answer questions, and complete your registration.
______________________________


SATURDAY PRESENTATIONS
9:00am - 10:30am
Dr. Vincent Felietti Keynote
Lifelong Effects of Childhood Trauma
The ACE Study—the CDC's Adverse Childhood Experiences Study—is a 25-year quest involving researchers from the Centers for Disease Control and Prevention and more than 17,000 members of Kaiser Permanente's San Diego care program. It has revealed that adverse experiences in child- hood are very common, and these experiences are linked to every major chronic illness and social problem that the Unit- ed States grapples with – and spends billions of dollars on. Just as everyone should be aware of her or his cholesterol score, so should everyone know her or his ACE score.
10:45am - 11:45am
Breakout 1 - David Fawcett

Addictions, Resilience, HeartCentered Therapies
This workshop reviews the application of Heart-Centered Therapy techniques to the recovery process from addictive behaviors. Healing old beliefs and behaviors de- creases vulnerability for relapse or changing addictions, and reinforcing individual strengths builds patterns of resilience that move the client beyond simply being abstinent into patterns of sustained personal growth and healing.
Learning objectives:
Participants will learn the typical constellation of issues that increase risk for addictive behaviors.
2. Participants will be able to identify specific heart-centered therapy techniques that assist achieving an initial period of recovery.
3. Participants will understand how heart-centered therapies promote the development of resilience and sustained recovery.
David Fawcett, PhD, LCSW, is a substance abuse expert, certified sex therapist and clinical psychotherapist in private practice in Ft. Lauderdale specializing in gay men's health. He has worked in the areas of mental health and substance abuse for more than 30 years.
Breakout 2 - Judi Vitale
Astrological Archetypes & Healing through Hypnosis
Use the archetypes of astrology to create healing experiences that appeal to your clients' instincts and impulses.
Learning objectives:
How astrology provides insight into a client's motivation.

Tapping on archetypes to create effective anchors.

Training clients to overcome "automatic" patterns through astrology's symbolic language.
Judi Vitale is a graduate of Carnegie Mellon and one-time horoscope writer for top national and global magazines and websites, Judi has written two books on relationship and parenting, and is currently developing a new book that describes her unique method of working with cli- ents to find joy, purpose and passion.
2:00pm - 3:00pm
Breakout 1 - Laura Purnell

Cultural Competence: Providing Ethical Services in a Diverse World

In the context of an increasingly diverse world it is essential that therapists, coaches and those whose purpose is to help bring healing to our planet, be culturally competent. This includes a call to culturally competent action focused on making appropriate services available to traditionally marginalized groups of people. This session is designed to meet ethics requirements held by many licensing boards.
Learning Objectives:
Define 5 Principles of Cultural Competence and connect these principles to their personal and professional experiences
Participants will learn how to use the cultural competence continuum as a tool for assessing personal and organizational development, barriers and micro-aggressions, and the sociopolitical implications of oppression

Participants will learn and use 4 principles for engaging in courageous conversations about race
Dr. Purnell was Principal Coach at Cleveland Metropolitan School District, Academic Superintendent and Turn Around Superintendent at Cleveland Municipal School District, and she now offers experiential training programs and transformational coaching focused on heart- centered living.
Breakout 2 - Zoe Waggoner

Remembering Your Resilience in Movement
Join me in an hour of experiential movement and exploration! Participate in Be-ing the sound and the movement: feel the energy and e-motion moving in your body. Experience viscerally your vitality, your life-force energy coming home to you. Dip your toes into your divine spirit and play!
Learning Objectives:
Experience moving from your feet and not your head

Practice listening and allowing the energy of the music to 'move

you'

Remember and allow your vitality, your joy to rise in your entire

being!
Zoe Waggoner, LMHC, is a licensed clinical social worker practicing in Olympia, WA. She is an advanced clinical Heart-Centered hypnotherapist.
3:15pm - 4:15pm
Breakout 1 - Maria Niki Michalopoulos
LISW ACHT PsyD Candidate
Mind/Body Healing: Hypnotherapy, Functional/Integrative Medicine, Epigenetic, Cancer & Immune System

This presentation will outline the intricate complex multidirectional energetic mind/body communication and how to utilize mind/body therapies to promote the deepest level of healing. The presenter will then take us from theory to practice by outlining how to manifest a more holistic practice in any environment: from private practice, integrative medicine or Executive/Corporate Wellness
Learning Objectives:
Recognize a paradigm shift from treating the symptoms of illness in

isolation to holistically treating the patient

Define the psychophysiology of hypnotherapy and the underlying biological substrates

Discern hypnotherapy as an effective epigenetic molecular regulator of the immune system and its role as a methylation adaptogen
Maria Niki Michalopoulos is the Life Coach & Holistic Psychotherapist at Cleveland Clinic Florida Maroone Cancer. As a researcher she investigates the effects of mind/body therapies on Cancer Patients. As a holistic practitioner provides mind/body therapies to patients and caregivers and consults with Leadership to develop programs that promote Wellness for patients and Staff. As a Transpersonal Psychology Psy.D Candidate at the Wellness Institute her dissertation is focused on evidence based mind/body modalities.
Breakout 2 -Anne Cowardin

Learning to Live in Your Present-Future Rather than Your Present-Past

Dr. Joe Dispenza, scientist and mystic, has been measuring the neuro- physiological changes in thousands of people as he teaches the relation- ship between matter, energy, and how to access the quantum field to heal and manifest. This presentation reviews his work and discoveries, and offers an experiential sample.
Learning Objectives:
Define the qualities of the all too common "present

-

past" that so

many people live in
Recognize the qualities of the "present-future" and identify ways of living it now
Discern the relationship between matter and energy, and identify how to access the quantum field
Dr. Cowardin is a Clinical Psychologist in private practice in Boulder, CO. She is now Academic Officer for the Wellness Graduate School of Psychology, having worked at Naropa University, University of Colorado at Boulder, University of North Carolina at Wilmington, and the University of Wyoming.
______________________________
SUNDAY PRESENTATIONS
9:00am - 10am
David Hartman an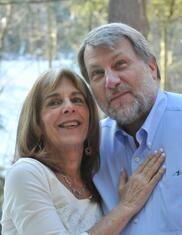 Diane Zimberoff

Diane Zimberoff, LMFT, is a licensed Marriage and Family Therapist, well known public speaker, and creator of the Heart-Centered Therapies.
David Hartman, LICSW, is a licensed Clinical Social Worker and author. David has co-authored over 30 published articles and written several books.
Together they have authored several books including Over- coming Shock (2014) and a textbook on transpersonal psychology Self-transcendence and Ego Surrender (2015).